Black-clad vigilantes bearing the Viking flag say they're "protecting" Finland from immigrants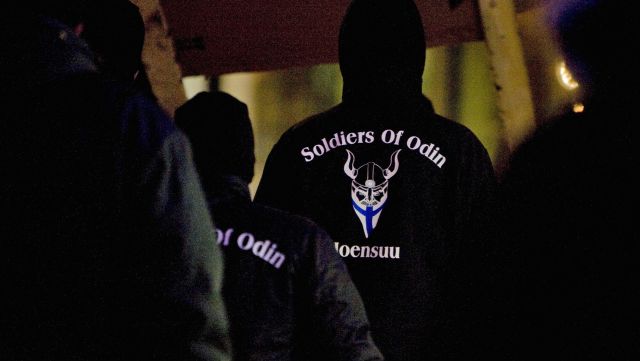 The "Soldier of Odin" unofficial uniform. (Photo: Reuters/Minna Raitavuo/Lehtikuva)
Members of an anti-immigration group are patrolling public streets in Finland to look for security threats posed by immigrants. Dressed in black hoodies with Viking logos, the group members call themselves "Soldiers of Odin."
So far, no conflicts have occurred between the organization's patrols and immigrants, according to Mika Makinen, a spokesperson for Finland's Ministry of the Interior, but police are monitoring the group closely.
"This group claims that they are not racists, and that they are not anti-immigrant. But previously they have been stating something else," Makinen told Quartz.
"It's rather difficult to think they are not anti-immigrant," he added.
Finnish interior minister Petteri Orpo has publicly denounced the group and accused its members of posing a threat to national security. "There are extremist features to carrying out street patrols. It does not increase security," he said in an interview with Finnish broadcaster YLE.
"These street patrols are actually causing more work. This is counterproductive to police," Makinen said. "But it's a basic civil right to go walking around the street, so this kind of activity cannot be legally forbidden."
Soldiers of Odin was founded in late 2015 in the northwestern border town of Kemi. The group has stated that it is active in over 10 cities in Finland, but police have reported active patrols in only five cities, according to Makinen,
Quartz reached out to the group through its Facebook page and received a response from someone claiming to be the group's spokesman, who declined to give a name. The spokesman claims that Soldiers of Odin has around 500 active members in Finland, and supporters in Sweden, Norway, Denmark, Poland, Estonia, Holland, and the UK.
According to Reuters, the group's founder, Mika Ranta, told a local paper that he started the group after reading on Facebook that asylum seekers were "hanging around primary schools, taking pictures of young girls."
Finland received 32,478 asylum seekers in 2015, according to the AP, up from 3,651 in 2014. Police records show that the number of sexual harassment cases in Finland grew significantly from 2014 to 2015, but the data does not specify the ethnicity or origin of the perpetrators, according to Reuters.
Hundreds of immigrants were charged with committing sexual assault on New Year's Eve in Cologne, Germany, and fear of sexual assault by asylum seekers seems to be growing in several European countries.
To stay in the loop, bookmark ATNNow – All the News Now.