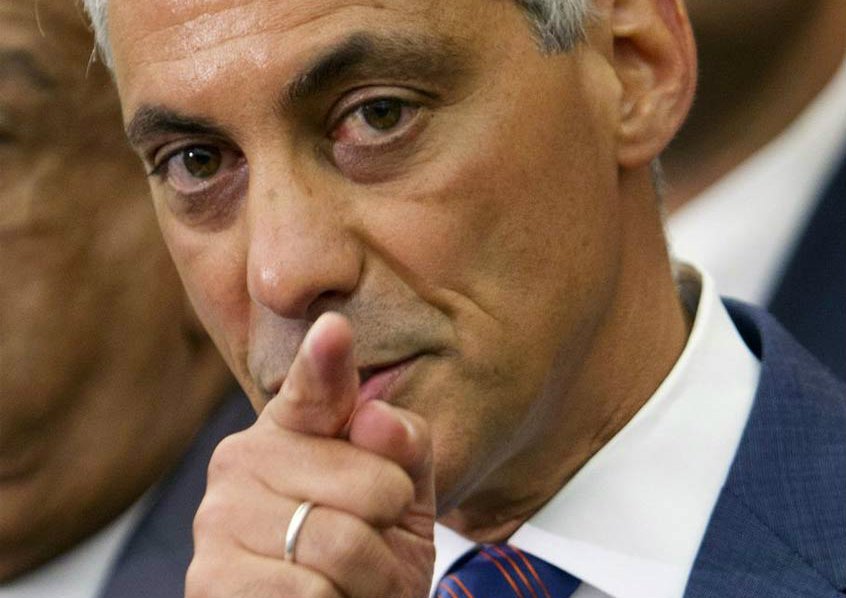 Emanuel Wants to Add a CPS Graduation Requirement: Get Acceptance Letter
by John Byrne, Juan Perez Jr. and Hal Dardick
[dropcap]M[/dropcap]ayor
Rahm Emanuel
wants Chicago public high school students to show they have a plan for what's next before they can get a diploma.
Emanuel's proposal would add one more big item to the graduation checklist for high school seniors: proof they've been accepted into college or the military, or a trade or a "gap-year" program. The requirement would also be satisfied if the student has a job or a job offer.
The point, the mayor said, is to get Chicago Public Schools students in all parts of the city to stop seeing high school graduation as an ending and get them to consider what's next.
"Just like you do with your children, college, post-high school, that is what's expected," Emanuel said at a Wednesday morning news conference. "If you change expectations, it's not hard for kids to adapt."
A top CPS official also acknowledged, however, that every Chicago public high school graduate essentially already meets the new standard because graduation guarantees admittance to the City Colleges of Chicago community college system.
Assuming the idea wins approval from the Emanuel-controlled Chicago Board of Education, the new requirements would first affect the Class of 2020. CPS did not specify how it would amend its graduation policies, and only said the school board would take up the issue sometime in the future.
Emanuel and his office said the "groundbreaking" effort would make CPS the nation's first large urban school district to require students to develop a plan for their lives after high school. He outlined the plan as CPS continues to struggle with financial problems that has led officials to warn the current school year could end three weeks early.
Emanuel's proposal surprised education experts who had questions about the district's legal authority to impose such a sweeping new standard. There are also questions about how the policy could affect at-risk students in a system where only a fraction of high school graduates enroll and graduate from four-year institutions.
"I've been doing this for 20 years and I've never heard of anything like that," said Maria Ferguson, executive director of the Washington D.C.- based Center on Education Policy. "The question I would have for Mayor Emanuel is: 'Where did this come from? What informed your thinking to lead you to believe that this was a good plan of action for CPS?'"
But the biggest issue might be whether such a requirement is legal, Ferguson said. While schools often make a point of helping students apply to and enroll in colleges, requiring a plan in order to get a diploma is different.
Emanuel and CPS Chief Education Officer Janice Jackson, who was also at the news conference, said the district already has graduation requirements that are above the state standards, and that as long as CPS meets the state minimum graduation requirements, it is legal to add things on top of that.
They characterized the proposed requirement as a way to get children from all over the city to focus on their post-high school plans.
"We all need to change how we think about what it means to be a high school graduate — a diploma alone isn't enough anymore," Jackson said in a statement.
CPS high school graduation requirements already include at least one credit of computer science and the completion of two community service learning projects. Illinois school regulations also allow local school boards to adopt "additional requirements for graduation."
State laws and regulations aren't clear on exactly how much authority school districts have to expand graduation requirements, said Miranda Johnson, who is the associate director of the Education Law and Policy Institute at Loyola University's School of Law.
"I think that raises questions when the requirements go beyond academic curriculum and extend into the student's post-secondary choices," Johnson said. "I think it also raises questions if those requirements are contingent on a third party's action that may go beyond the scope of what the student can control."
Emanuel's initiative would allow the mayor to continue promoting the City Colleges of Chicago and push a potential flood of new applicants to schools that must already accept most students. Emanuel recently installed a longtime ally, Latino activist Juan Salgado, as chancellor of the system.
State law already requires Illinois community college districts to admit students qualified to complete any of the schools' programs, as long as space is available. That could provide an out for a student who isn't quite sure what to do after high school, officials said.
Asked whether a student who doesn't get one of these letters of acceptance would be prohibited from graduating from high school Jackson said in part:
"If a student graduates from a Chicago public school, they are automatically accepted into one of our City Colleges. And if a student is at a point where they're undecided … we do have that option there for them."
But processing a possible surge of college applicants would likely require CPS to hire more counselors and could also have implications for the city's community colleges, said education policy analyst Rodney Estvan of the Access Living disability rights group.
"Everybody who graduates from high school is going to be accepted into a community college. That's law," Estvan said. "They're going to be accepted into City Colleges. Hopefully (CPS) will hire more high school counselors and they'll get these kids' applications in and do what they have to do."
At the same time, Estvan said the new policy could put a strain on local community colleges.
The City Colleges system has continued to struggle with "softened" enrollment numbers, as the system also looks at burning cash reserves and making cuts because of the state's protracted budget impasse.
At the same time, the system has said it has seen larger numbers of incoming students "without the required academic preparation," which has led to higher demand for remedial courses and support services.
"It's going to be really hairy for the community colleges if a high percentage of these kids actually show up, because they're going broke," Estvan said.
There may be other practical implications involved with pushing at-risk students to prove they have jobs or have been accepted into apprenticeship programs.
Students who work with Loyola's legal clinics are often in foster care, have disabilities or are involved with the legal system. In those cases, said Johnson, "simply obtaining a high school diploma is a cause for celebration."
"I think the goals are really laudable," Johnson said of Emanuel's proposal. "I just think that the challenges are the supports available for the students to enable them to do that. And if they fail to be able to secure an acceptance by the time they graduate, should they then be penalized by the withholding of a high school diploma?"
One thing the mayor definitely does not want to do is push down CPS' high school graduation rate. The district's five-year high school graduation rate last year hovered at around 73 percent, despite broad race-based disparities.
The record for continuing education beyond high school has not been good. As of 2015, the University of Chicago's Consortium on School Research concluded an estimated 18 percent of CPS ninth-graders would graduate from a four-year college within ten years of starting high school.
During the tenure of former CPS CEO Barbara Byrd-Bennett, who is to be sentenced this month for her role in a bribery scheme, the district promoted a series of partnerships with area colleges and universities with the goal of increasing the college graduation rate of CPS students to 60 percent by 2025 .
As part of that effort, CPS embarked on what it described as a comprehensive, eight-day training program for school advisers. The district said it understood that the quality of college counseling that students received marked "one of the greatest drivers of whether a student enrolls and persists in college."
But by Wednesday, the district said, only about 40 percent of CPS school counselors had completed the training.
The district said it would ensure all counselors obtained the training as part of Emanuel's latest initiative, noting that CPS and the mayor's office were working to raise roughly $1 million from donors to accelerate the process.
This article was originally published by Chicago Tribune. Read the original article.

Further reading:
Beginning in 2020, Chicago high-school seniors will have to prove that they have a government-approved post-graduation plan in order to earn their diplomas. Yep.