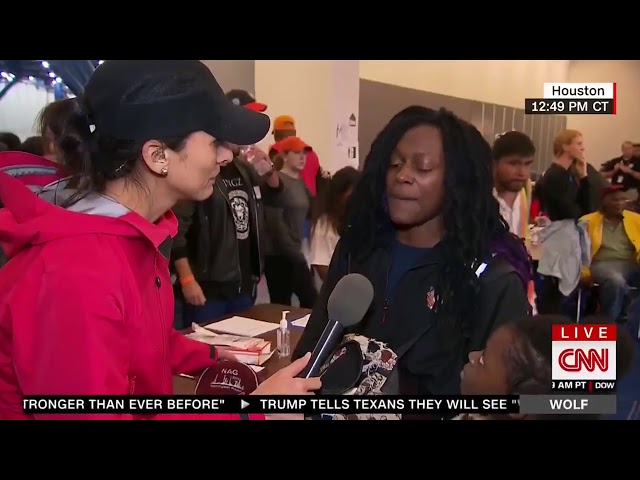 "What the F*ck!": Rescued Woman Blasts CNN for Exploiting Hurricane Harvey Victims
by Chris Perez
[dropcap]A[/dropcap] distraught Houston mother tore into a CNN reporter
during a live interview
— blasting the woman for putting a microphone in her face just moments after she arrived at a shelter with her two young children.
"Y'all trying to interview people during their worst times. Like, that's not the smartest thing to do," the shaken parent, identified only as Danielle, told reporter Rosa Flores.
"People are really breaking down and y'all sitting here with cameras and microphones trying to ask us what the f–k is wrong with us," she seethed. "And you really trying to understand with the microphone still in my face! With me shivering cold, with my kids wet! And you're still putting a microphone in my face!"
The interview happened a little before 1 p.m. Central time at a shelter in Houston. Flores appeared to approach the woman at random just after she arrived with her kids.
"We was waiting for the police for like 36 hours and they never came," the mother said. "We did the white flags and everything — and nobody came."
The woman went on to explain how she fled her home, walked to a nearby gas station, and remained there until someone picked her and her children up.
"We had been there for five days with no food, no lights," she said. "We got through 4 feet of water to get them food on the first day … Yeah, that's a lot of s–t."
During her outburst, Flores can be heard apologizing to the woman and her children.
"It sounds like you've got a very upset family there," CNN anchor Jim Acosta tells Flores, before cutting away.
The pair later discussed the incident, saying the mother appeared to be at her "breaking point."
"We've seen a lot of pain, a lot of drama, a lot of shock here — and that's exactly what that woman is going through," Flores said. "It' s a very painful time … There's a lot of trauma … And as she mentioned, she went through all of that with her children. So just imagine. Any parent can relate to that."
Related:
Harvey, the storm that swept into Texas as a Category 4 hurricane over the weekend, made landfall for a second time in Louisiana early Wednesday morning as shelters in Houston filled and rain continued to fall, threatening dams and worsening already catasrophic flooding.
Hurricane Harvey roared to shore on August 25 as a Category 4 storm, with 130-mph winds by the time it hit Rockport, Texas. Heavy rainfall has caused catastrophic flooding in Houston and along the Texas Gulf Coast, displacing thousands and causing dozens of deaths.