"Looking for consciousness in the brain is like looking inside a radio for the announcer.
– Nassim Haramein
[dropcap]W[/dropcap]hat is human consciousness and where does it come from? Throughout the ages, some of our
greatest minds have probed this question
, and struggled to find answers. Today, different disciplines offer varying definitions. One theory says it is meta-cognition or our ability to ponder our own thought process. Another states it is our capacity to recognize our own mortality, and another still, to be able to imagine future scenarios, and make plans for them.
Scientists too have had difficulty, particularly in finding the source of what we experience continuously from one moment to the next, which makes us human, and which is what we lament in those stuck in a coma or a vegetative state. Those poor souls been stripped of something we feel is elemental to who we are, and worse still, they remind us just how fragile our own consciousness is.
Classical neurology defines consciousness as the ongoing process of arousal and awareness. Its origin however, has been much harder to pinpoint. Now, researchers at Harvard Medical School, along with colleagues at the Beth Israel Deaconess Medical Center, have discovered the neural network from which consciousness derives.
We've known for some time that the brainstem regulates arousal, what neurosurgeon Richard M. Bergland called the "spark plug of consciousness." This is the oldest and deepest part of the brain. The starting point for the spinal cord, the brainstem controls breathing, heart function, and the sleep-wake cycle. But where awareness emanates from has long been a mystery. Previous speculations say it resides in the cortex, the newest parts of the brain, and its outermost layer.
For the first time, neuroscientists have found a connection between these two regions, according to Michael D. Fox, MD, PhD, a researcher on this study. "A lot of pieces of evidence all came together to point to this network," he said. To conduct the study, Fox and colleagues recruited 36 patients with brainstem lesions. 12 of these were in a coma and the remaining 24 conscious.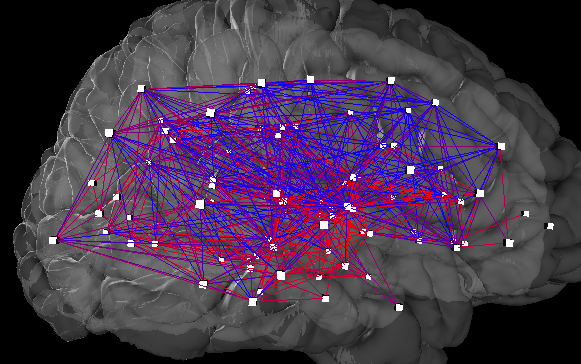 Map of the human connectome or connections between brain regions.
Those subjects who were unconscious showed damage to a small area of the brainstem known as the rostral dorsolateral pontine tegmentum. "When it is damaged, almost every patient became comatose," Fox said. Only one of the 24 conscious patients did not see damage to this area of the brainstem. Due to this, researchers established that the tiny region plays a vital role in consciousness. Next, the neuroscientists turned to a map of the human connectome to investigate the connections between regions. They found two areas in the cortex connected to this part of the brainstem. That led them to believe that these three regions make up a neural network from which, consciousness derives.
Where exactly these connections terminate in the cortex is not yet known. One ends at a part called the left, ventral, anterior insula (AI). The other concludes in the pregenual anterior cingulate cortex (pACC). Both areas are associated with awareness. But this is the first time they have been implicated in a neural network, never mind one which creates and maintains consciousness. In a follow-up segment, researchers examined the brains of 45 patients in a coma or vegetative state with an fMRI. They found in all the patients that these three regions were out of commission.
Other research must verify these findings. Even so, it looks like an incredible step forward which impacts not only neurology but medicine and even philosophy. Fox and colleagues believe that someday we may better understand those who are in a coma or a vegetative state, and may even find novel treatment options to help those patients "wake up."

WATCH | Consciousness Can Be Quantified
Michio Kaku: In the entire universe the two greatest scientific mysteries are first of all the origin of the universe itself. And second of all the origin of intelligence. Believe it or not, sitting on our shoulders is the most complex object that Mother Nature has created in the known universe. You have to go at least 24 trillion miles to the nearest star to find a planet that may have life and may have intelligence. And yet our brain only consumes about 20-30 watts of power and yet it performs calculations better than any large supercomputer. So it's a mystery. How is the brain wired up? And if we can figure that out what can we do with it to enhance our mental capabilities.
When you look at the brain and all the parts of the brain they don't seem to make any sense at all. The visual part of the brain is way in the back, for example. Why is the brain constructed the way it is? Is this nothing but an accident of evolution? Well one way to look at it is through evolution. That is, the back of the brain is a so-called reptilian brain. The most ancient primitive part of the brain that governs balance, territoriality, mating. And so the very back of the brain is also the kind of brain that you find in reptiles. Now when I was a child I would go to the science museum and look at the snakes sometimes and they would stare back at me. And I would wonder, "What are they thinking about?" Well, I think now I know. What they're thinking about was, "Is this person lunch?"
Then we have the center part of the brain going forward and that's a so-called monkey brain, the mammalian brain. The brain of emotions. The brain of social hierarchies. And then finally the front of the brain is the human brain, especially the prefrontal cortex. This is where rational thinking is. And when you ask yourself a question where am I anyway. The answer is right behind your forehead. That's where you really are.
Well, I have a theory of consciousness which tries to wrap it all up together. There've been about 20,000 or so papers written about consciousness and no consensus. Never in the history of science have so many people devoted so much time to produce so little. Well, I'm a physicist and when we physicists look at a mysterious object the first thing we try to do is to create a model. A model of this object in space. And then we hit the play button and run it forward in time. This is how Newton was able to come up with the theory of gravity. This is how Einstein came up with relativity. So I tried to use this in terms of the human brain and evolution. So what I'm saying is I have a new theory of consciousness based on evolution. And that is consciousness is the number of feedback loops required to create a model of your position in space with relationship to other organisms and finally in relationship to time.
So think of the consciousness of a thermostat. I believe that even a lowly thermostat has one unit of consciousness. That is, it senses the temperature around it. And then we have a flower. A flower has maybe, maybe ten units of consciousness. It has to understand the temperature, the weather, humidity, where gravity is pointing. And then finally we go to the reptilian brain which I call level 1 consciousness and reptiles basically have a very good understanding of their position in space, especially because they have to lunge out and grab prey. Then we have level 2 consciousness, the monkey consciousness. The consciousness of emotions, social hierarchies, where are we in relationship to the tribe. And then where are we as humans.
As humans we are at level 3. We run simulations into the future. Animals apparently don't do this. They don't plan to hibernate. They don't plan the next day's agenda. They have no conception of tomorrow to the best of our ability. But that's what our brain does. Our brain is a prediction machine. And so when we look at the evolution from the reptilian brain to the mammalian brain to the prefrontal cortex, we realize that is the process of understanding our position in space with respect to others — that is emotions — and finally running simulations into the future.