Remembering Chuck Berry
The rock 'n' roll legend—who died at the age of 90—was a fierce guitarist and unparalleled raconteur.
by David A. Graham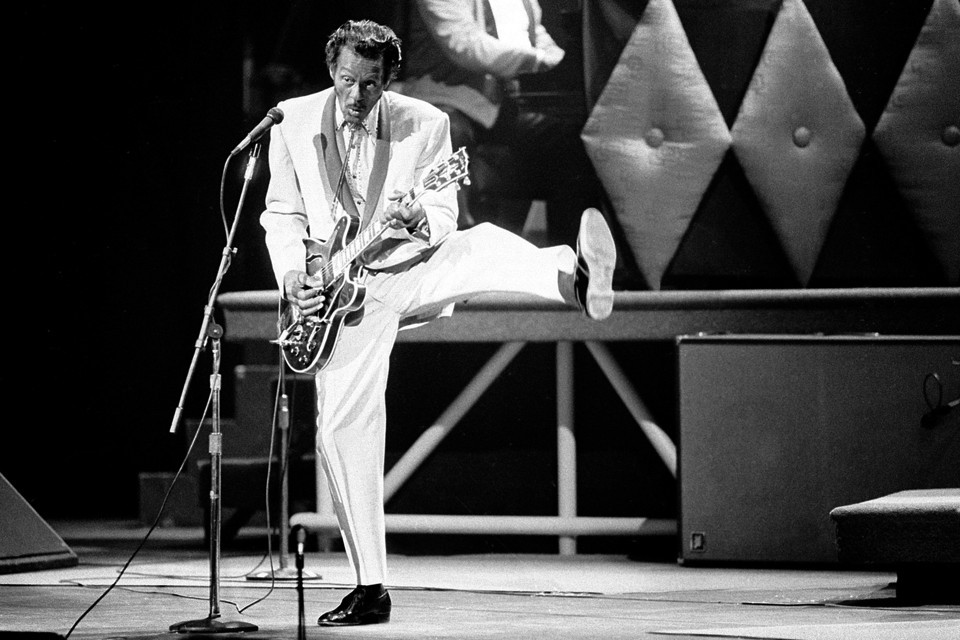 The greatest artists offer a reflection for a nation to see itself and its time, and Chuck Berry, a beautician by trade, knew a thing or two about holding up a mirror for a customer. His most famous song, "Johnny B. Goode," is a classic story of the American dream: A poor, uneducated boy from the sticks uses his ability to make a guitar ring like a bell to make good—or so the listener is left to assume, though Berry left the ending notably ambiguous.
But Berry, unlike his protagonist, didn't grow up in log-cabin rural squalor—he was a middle-class African American from segregated urban St. Louis. It is another of his compositions, using nearly the same opening riff—and when you write a lick that good, why not reuse it?—that demonstrates Berry's ability to depict post-war America so convincingly.
The singer in "Promised Land" is, like the guitar-slinging Goode, a young man on the make. Starting off from home in Norfolk, Virginia, in a Greyhound, the singer wants to make it to California to make his name. The song is an atlas of America—great cities like New Orleans and Atlanta crop up, but so do smaller ones like Rock Hill, South Carolina, and Albuquerque, New Mexico. Like his contemporaries the Beat Poets, the singer is determined to travel, but unlike them he does not have the tendency toward (nor, perhaps, the privilege of) shiftlessness. When the 'hound breaks down in Alabama, he hops a train—but he's riding in style, not jumping a freight like Neal Cassady. Family members in Houston buy him a silk suit and an airplane ticket, and by the time he reaches California, he's tucking into a T-bone steak on a jet airplane. With each new, fancier mode of transportation—bus, then train, then airliner—his horizons grow in tandem with a nation whose own future seemed limitless. (Berry was also closely attuned to that essential 1950s American preoccupation, the automobile, obsessively cataloging makes and models in other tunes.)
The road trip is a classic American trope, but Berry makes it his own, and his era's own; when before the 1960s could a young black man in the American South have set out so confidently on his journey? The trip ends successfully, though when the singer reaches his destination, he is jubilant but still has to call collect:
Los Angeles, give me Norfolk, Virginia,
Tidewater four-10-O-nine
Tell the folks back home this is the promised land callin'
And the poor boy's on the line.
"Promised Land" captures the romance of the road, upward mobility, conspicuous consumption, and a touch of Jay Gatsby vulnerability, and it does so in a fully realized narrative. And it does all that in two minutes and 24 seconds.
Berry was rightly, if belatedly, celebrated as an inventor of rock 'n' roll, or at least as good a candidate as any other single individual. People have been declaring rock dead for decades now, and if that is so, then the singer, guitarist, and songwriter may have outlasted his own creation, dying Saturday at age 90. Berry was a total package—a fierce guitarist, a powerful singer, a great songwriter. He even had a claim on creating the rock 'n' roll move, projecting raw sexual power before Elvis got anywhere near the Ed Sullivan Show, duckwalking across stages before Angus Young was even in short pants, and busting moves like Jagger avant la lettre.
Berry was for years underrated as the father of rock 'n' roll, the victim of a racist epidemic of whitewashing from which his reputation only began to recover in the last decades of his life. As Jack Hamilton writes, "Even in the late 1960s, the exceptional nature of [Jimi] Hendrix's race confirmed a view of rock music that was quickly rendering blackness definitively other, so much so that at the time of his death, the idea of a black man playing electric lead guitar was literally remarkable—'alien'—in a way that would have been inconceivable for Chuck Berry only a short while earlier."
The simplest formula for rock 'n' roll is straightforward: A fusion of black blues and rhythm blues with hillbilly creates something new. As is often the case in music history, the people who got richest and got the most credit for that fusion tended to be white—thus Presley was the one crowned the King. Berry was marginalized and cast as a link to the rhythm and blues tradition, rather than the father who sired the fusion himself.
But that was false. Berry was the product of cosmopolitan St. Louis, where he heard plenty of vernacular music of all types. As a young man he could croon sweet music like Nat King Cole, play the blues like Muddy Waters, or pick a country tune. "Curiosity provoked me to lay a lot of our country stuff on our predominantly black audience," he wrote in his autobiography. "After they laughed at me a few times, they began requesting the hillbilly stuff and enjoyed dancing to it." Berry's first single, "Maybellene," released in 1955, was a rewrite of an old Western swing number by Bob Wills and his Texas Playboys. Two years later, he recorded "Deep Feeling," an instrumental on pedal-steel guitar.
Berry's audiences may have been predominantly black when he started mixing country in with the blues, but they didn't stay that way. His music became hugely popular among white teenagers, including one Robert Zimmerman of Hibbing, Minnesota. "When I first heard Chuck Berry, I didn't consider that he was black. I thought he was a white hillbilly," the Minnesotan claimed years later, and while Bob Dylan is not always a reliable narrator, his comments in 2015 highlight how Berry's appeal crossed the boundaries of color. It even crossed the boundary of interstellar space, as part of a golden record placed aboard the Voyager space probe in 1977. (Steve Martin joked on Saturday Night Live that the first four words aliens would communicate to earth would be, "Send more Chuck Berry.")
This line-crossing had a limit, of course. Berry could sell millions of records to white listeners, but his frank display of black male sexuality still represented a provocation to the white-supremacist order. Berry delighted in this rebellion, and portrayed it in song. The less said of "My Ding-a-Ling" the better, but take the opening verse of "Brown-Eyed Handsome Man," in which an apparently African American man is sprung from jail by his paramour, the wife of a powerful white man:
Arrested on charges of unemployment,
he was sitting in the witness stand
The judge's wife called up the district attorney
She said, "Free that brown-eyed man,
You want your job, you better free that brown-eyed man."
In 1959, Berry was charged with violating the Mann Act, which forbids taking a minor across state lines for immoral purposes, and which was frequently employed to target prominent black men on dubious charges. Berry appealed the charges, alleging racism on the judge's part. His appeal was successful, though he was convicted again after a retrial. By the time he finished serving his time, the music he created had become the biggest game in the world, leaving him behind even as others got rich playing his songs. (Berry later faced some other legal troubles, including a tax-evasion conviction; he also settled a lawsuit alleging he had spied on women in the bathroom of a restaurant he owned using hidden cameras.)As a guitarist, Berry's claim as an original was clearest. "Rocket 88" preceded "Maybellene" by several years, and Elvis Presley's "That's Alright Mama" a year sooner, but Berry invented the sound of rock 'n' roll guitar. You won't find much more than the three chords that form the basis of blues and country in Berry's oeuvre, and you won't miss the others. Playing on semi-hollow-body Gibson guitars, Berry created a sound that drew on Charlie Christian's clean swing, Muddy Waters's overdrive, and T-Bone Walker's two-string bends. The result was a sound that was unmistakably bluesy, but just as clearly not the blues, lending itself to punchy, concise solos that remain the foundation of rock guitar.
The proof of Berry's influence comes in the array of artists who covered his songs, with the Beatles' rendition of "Roll Over Beethoven" leading the list. Also on it: The Rolling Stones, Grateful Dead, Jimi Hendrix, and the Beach Boys, who lifted the melody of "Surfin' USA" from "Sweet Little Sixteen."But putting too much emphasis on Berry as progenitor is fraught, because it risks relegating him to the dusty corners of the musical pantheon, more revered than listened to. Committing such an error would overlook not only Berry's guitar playing and singing, but also his astonishing lyrical genius, matched in American music only by Dylan.That genius included the ability to turn a novel phrase. Who had ever said, as Berry did in "Maybellene," "As I was motorvatin' over the hill"? And yet who could misunderstand the neologism, or improve on it? "Roll Over Beethoven" is so familiar that its witty turns of phrase are easily overlooked. There are seamlessly integrated allusions to both Carl Perkins and Mother Goose ("Don't you step on my blue suede shoes/Hey diddle diddle, I am playin' my fiddle"), the audacious step of not only mentioning Tchaikovsky in a pop song but fitting his name into the rhyme scheme, and this matchless verse:
I got the rockin' pneumonia,
I need a shot of rhythm and blues
I caught the rollin' arthritis
Sittin' down at a rhythm review
When the song was released in 1956, the idea that an African American hairdresser-turned-guitar-slinger from St. Louis could announce the toppling of Ludwig van Beethoven must have seemed impudently absurd; just a decade later, a quartet of young Englishmen who got famous playing Berry covers could claim with straight faces that they were bigger than Jesus.
Berry wasn't just a wit; he was a raconteur who could compress a short story into just a few verses, complete with characterization, exposition, and plot. The skill is on display in "Promised Land," spanning the entire North American continent, and "Johnny B. Goode," where an indelible character springs from just three verses. A somewhat lesser-known song, 1970's "Tulane," shows Berry's storytelling talent. The chorus is a gem in its own right, proving that with the aid of a funky triplet feel, a resourceful songwriter can write nearly endless choruses where every line begins with "go."As for the verses, the setup is simple: Johnny and Tulane open up a novelty store as a front for selling drugs, but eventually they're caught. What makes the song work is an ingenious device: Tulane's flight from the police, and his attempts to clean up the situation, are narrated by Johnny, his arrested co-conspirator, as a set of instructions:
Go by your father's house and tell him, "Business is slow,"
And see if he will loan us something, soon as you hit the door
Put the cat out in the hall and rumple up the room
Go by Doctor Keller and tell him you swallowed some perfume
Tell him we need him quick 'cause he may have to testify
That you've been sick all day, and that's a perfect alibi
The song is told in the knowing voice of a man acquainted with the small-time crime (a teenaged Berry was sent to reformatory for armed robbery) and, as a result, somewhat jaundiced about the criminal-justice system ("We gotta get a lawyer in the clique of politics").
By the time "Tulane" came out, Berry's star had faded. He continued to record and tour regularly, but he'd become effectively an oldies act. It was only in the 1980s that, despite his occasional legal troubles, Berry began to receive the acknowledgment he deserved. In 1979, he performed at the White House; in 1984, he received a Grammy for lifetime achievement, and two years later he was in the first class of inductees into the Rock and Roll Hall of Fame. (At least three fellow members of Berry's class had covered his songs.)
Berry continued to perform well into his eighties, keeping a standing date at Blueberry Hill in St. Louis for almost twenty years. On his 90th birthday in October, Berry announced plans to release Chuck, his first record since 1979. Recording is reportedly finished, though no release date has been set. Berry, however, will not be around to see it. His chariot has swung low and taxied to the terminal zone, and the poor boy is in the promised land.
[
The Atlantic
]

Legendary guitarist and rock and roll pioneer Chuck Berry has passed away at the age of 90, police said Saturday. The musical icon was pronounced dead Saturday afternoon shortly after authorities responded to an emergency call in St. Charles County, Mo., according to law enforcement. "St.
Never has the anxiety of influence been captured so openly, and so vividly, as in the standoff between Chuck Berry and Keith Richards, when they rehearsed Berry's song "Carol" in St. Louis thirty years ago. To watch Berry bully, instruct, and, finally, cajole Richards into getting things right is as unforgettable for the viewer as it was humbling for the veteran of the Rolling Stones.
This is an excerpt from Play It Loud: An Epic History of the Style, Sound & Revolution of the Electric Guitar by Brad Tolinski and Alan di Perna.In 1954, at the age of 41, blues musician Muddy Waters had finally made it to the top. Or so it seemed.
Space is about to get a lot groovier than ever before. Rock and roll legend Chuck Berry's recent death was declared a tragic loss by numerous legendary musicians and Hollywood A-lister s. However, his music will live on and will be flown to the stars by Nasa's Voyager spacecraft.
Watch: Chuck Berry, known as 'father of rock 'n' roll,' dies at 90h
Watch: Rock 'n' roll legend Chuck Berry dead at 90
Watch: Chuck Berry – Johnny B. Goode (Live 1958)
Watch: Chuck Berry on The Tonight Show Starring Johnny Carson (1987)
Watch: Chuck Barry Sings Sweet Little 16 (Live In 1958)
This is Chuck Barry live from the Dick Cark Beech-Nut Show back in the late 50's. He's introduced by Dick Clark, and a young Johnny Carson. The crowd goes wild as he performs!