Supreme court justice Antonin Scalia dies: legal and political worlds react
Martin Pengelly in New York, Ben Jacobs in Greenville, South Carolina and Dan Roberts and Alan Yuhas in Washington DC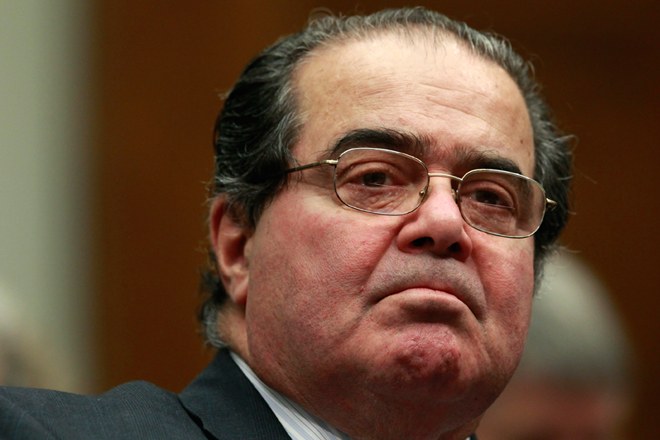 Antonin Scalia, the staunchly conservative supreme court justice, has died at the age of 79, prompting an immediate political struggle over the future direction of the United States, even as tributes were being paid to honor his service.
As the stars and stripes were lowered to half-staff outside the court, and the chief justice, John Roberts, confirmed Scalia's death, political leaders on both sides of the partisan divide staked out their positions in the fierce fight to come over the nomination of his replacement.
Barack Obama praised Scalia as a "brilliant legal mind" who was "one of the towering legal figures of our time" and "one of the most consequential judges and thinkers to serve on the supreme court".
But in a brief statement on Saturday night, he also responded to Republican threats to block Scalia's replacement by warning they risked undermining a cornerstone of US democracy.
"I plan to fulfil my constitutional responsibility to nominate a successor in due time," he said, during a weekend trip to Palm Springs. Obama, who is in the final year of his presidency, said: "There will be plenty of time for me to do so and for the Senate to to fulfil its responsibility to give that person a fair hearing and a timely vote."
"These are responsibilities that I take seriously, as should everyone, they are bigger than any one party; they are about our democracy. They are about the institution to which justice Scalia dedicated his professional life and making sure it continues to function as the beacon of justice that our founders envisaged."
Before Obama spoke, the Senate majority leader, Mitch McConnell, said the next president should be the one to nominate a replacement to a court which is now evenly balanced between four liberal and four conservative justices.
With issues ranging from immigration reform and climate change on the court's agenda – and issues like abortion and gun control being fought over in the lower courts – the next appointment is pivotal.
The president's nomination must be passed with the votes of at least 60 of the 100 members of the Republican-controlled Senate.
McConnell's statement followed a more rancorous outburst from Conn Carroll, communications director for Mike Lee of Utah, a Tea Party-backed member of the Senate judiciary committee. Carroll used Twitter to say: "What is less than zero? The chances of Obama successfully appointing a supreme court justice to replace Scalia?"
He added: "If anything this will put a full stop to all Obama judicial nominees going forward."
Before their debate in South Carolina on Saturday night, Republican presidential candidates followed suit. The Texas senator Ted Cruz, a leading contender who clerked in the supreme court while Scalia was on the bench, said on Twitter: "Justice Scalia was an American hero. We owe it to him, [and] the nation, for the Senate to ensure that the next president names his replacement."
Like other candidates, Cruz has used fiery rhetoric about the court and conservative touchstones while on the campaign trail. In Iowa recently, prior to winning the state's caucus by capturing the evangelical vote, he said: "We are one justice away from the supreme court taking away every single restriction on abortion and mandating abortion on demand … up to the moment of birth."
From the Democratic side of the Senate, Patrick Leahy of Vermont, the ranking Democrat on the judicial committee, issued a sharply worded rebuke.
Saying he was saddened by the death of Scalia "although I often did not agree with his legal opinions", Leahy continued: "I hope that no one will use this sad news to suggest that the president or the Senate should not perform its constitutional duty.
"The American people deserve to have a fully functioning supreme court. The supreme court of the United States is too important to our democracy for it to be understaffed for partisan reasons. It is only February. The president and the Senate should get to work without delay to nominate, consider and confirm the next justice to serve on the supreme court."
The presidential candidate Hillary Clinton went further, saying: "The Republicans in the Senate and on the campaign trail who are calling for Justice Scalia's seat to remain vacant dishonor our constitution. The Senate has a constitutional responsibility here that it cannot abdicate for partisan political reasons."
McConnell, however, is likely to point to the so-called "Thurmond rule" as precedent for his attempt to block confirmation. This non-binding Senate tradition of resisting supreme court appointments in the final months of a presidency dates from Senator Strom Thurmond's opposition to a court nomination by Lyndon Johnson in 1968.
The White House will no doubt argue that nine months before an election is a period of time that falls outside even this somewhat vague rule.
More importantly, both sides will be eyeing the pending court decision on Obama's immigration action, which could be blocked indefinitely if there was a 4-4 split on the court.
The president's unilateral move to allow millions of undocumented immigrants to avoid deportation was first challenged by a Texas court and upheld by a federal appeals court, whose ruling will stand if the supreme court cannot decide one way or another.
While the Thurmond rule would not provide the definitive victory Republicans once hoped for, anything that prevents what they see as immigration "amnesty" from taking root before Obama leaves would be worth dragging heels for.
The supreme court justices pose for a group photo in 2010. Seated, from left are, Clarence Thomas, Antonin Scalia, John Roberts, Anthony Kennedy and Ruth Bader Ginsburg. Standing, from left, Sonia Sotomayor, Stephen Breyer, Samuel Alito Jr and Elena Kagan. (Photograph: Pablo Martinez Monsivais/AP)
The San Antonio Express News reported that Scalia was found dead on Saturday morning at a ranch in the Big Bend region of Texas, south of Marfa, and said he had been discovered to have died after not attending a breakfast. Local ABC affiliate KVIA reported that Scalia died in his sleep after a day of quail hunting.
The news prompted mourning from conservatives, honors from attorneys and a mix of respectful comment, unreserved scorn and and political bickering among everyone else – a reflection of the colorful supreme court justice's power to polarize the country.
Scalia was appointed to the court in 1986, by President Ronald Reagan, as the first Italian American to serve on the supreme court. He was born in Trenton, New Jersey, in 1936 and brought up in New York City. From private practice and academia, he entered public service during the Nixon administration, and became an appeals court judge under Reagan.
His written rulings and opinions, often expressed in witty yet forthright terms, divided observers and infuriated liberals. He dissented, for example, in the 2015 case which legalised same-sex marriage across the US. He also caused controversy with comments about race and healthcare.
Jim Obergefell, the lead plaintiff in the case that made same-sex marriage legal around the US last year – a decision for which Scalia made a vitriolic dissent – tweeted his condolences. "Thank you for your service to our country, Justice Scalia," he wrote. "Condolences to your family and friends."
Chief Justice Roberts quickly noted his admiration for the late judge, who was close if unlikely friends with the liberal justice Ruth Bader Ginsburg and their fellows on the court. Scalia was an "extraordinary individual and jurist, admired and treasured by his colleagues", Roberts said.
"His passing is a great loss to the country and the court he served."
Governor Greg Abbott of Texas, a strongly conservative Republican, issued a statement that dripped with conservative priorities and rhetoric.
"Justice Antonin Scalia was a man of God, a patriot, and an unswerving defender of the written constitution and the rule of law," he said.
"He was the solid rock who turned away so many attempts to depart from and distort the Constitution. His fierce loyalty to the Constitution set an unmatched example, not just for judges and lawyers, but for all Americans."
Republican presidential contenders paid tribute. In a statement, a spokeswoman for Donald Trump, the frontrunner, said: "Justice Scalia was a remarkable person and a brilliant supreme court justice, one of the best of all time.
"His career was defined by his reverence for the constitution and his legacy of protecting Americans' most cherished freedoms."
Senator Marco Rubio said: "One of the greatest honors in my life was to attend oral arguments during Town of Greece v Galloway and see Justice Scalia eloquently defend religious freedom. I will hold that memory forever."
Cruz indicated his own conservative stance on how the constitution should be interpreted when he said: "As liberals and conservatives alike would agree, through his powerful and persuasive opinions, Justice Scalia fundamentally changed how courts interpret the constitution and statutes, returning the focus to the original meaning of the text after decades of judicial activism."
President Ronald Reagan announces the nomination of Antonin Scalia to the supreme court in September 1986. William Rehnquist is at right. (Photograph: Ron Edmonds/AP)
Cruz also called Scalia's time on the court "one of President Reagan's most consequential legacies", and said: "Our prayers are with his beloved wife Maureen, their nine children, and their precious grandchildren."
Jeb Bush, the former governor of Florida, said Scalia's "logic and wit were unparalleled, and his decisions were models of clarity and good sense". His brother, former president George W Bush, said Scalia was a "towering figure and important judge".
On the Democratic side of the ledger, Senator Bernie Sanders said: "While I differed with Justice Scalia's views and jurisprudence, he was a brilliant, colorful and outspoken member of the supreme court."
Chuck Schumer, the influential senator from New York, said Scalia had been "a great son of Queens with a genuine joy for life".
The somber tone of elected officials was not uniformly reflected in the general public. The journalist Glenn Greenwald summed up the mood among many critics of the justice in a tweet: "Don't even try to enforce the inapplicable don't-speak-ill-of-the-dead 'rule' for the highly polarizing, deeply consequential Antonin Scalia."
[
The Guardian
]
Further reading:
31 of Supreme Court Justice Antonin Scalia's Greatest Quotes – Breitbart

Justice Antonin Scalia: In his own words – BBC News

Who will Obama choose to replace Antonin Scalia? Here are 7 of the strongest candidates.

Update:
'It Wasn't a Heart Attack': Confusion and Conflicting Reports Surround Justice Scalia's Death

To stay in the loop, bookmark ATNNow – All the News Now.